What is galvanized steel sheet?
Galvanized steel sheets are suitable for steel structures to increase their rigidity. It is made of high zinc galvanized sheet and formed by rolling and cold bending, which has excellent corrosion resistance and durability. Metal corrugated panels are used to support floor concrete, including structural roof panels or composite floors.
Galvanized flat roof
Roof deck products are used as a strong foundation for roof construction. The most popular is the Type B deck with wide ribs. Other common types include A deck (narrow rib roof panels), F deck (middle rib), N deck (deep rib).
Galvanized floor
Decking is a corrugated metal panel used in flooring applications. It is also known as a composite panel because it is a combination of concrete and metal roofing panels. The floor slab is used as tension reinforcement to increase the rigidity of the floor slab and reduce the amount of steel and concrete.
The main difference between a roof deck and a floor deck is the relief pattern. The former uses a smooth panel without an embossed pattern. While the latter has a special relief pattern that creates a mechanical and chemical bond between the deck and the concrete.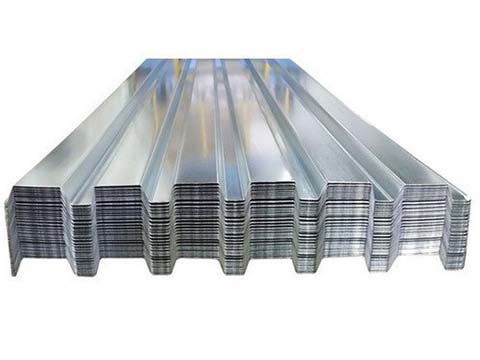 roof terrace
floor deck
Composite floor deck requirements
(1) The material of the composite bridge deck is corrugated galvanized sheet with high zinc layer, so that the service life of the floor deck can reach more than 20 years.
(2) The average groove width of poured concrete should not be less than 50mm. When there are connectors in the groove, the height of the composite board should not be greater than 80mm.
(3) The thickness of the composite bridge deck is not to be less than 90mm. In addition, the thickness of concrete above the corrugated plate surface should not be less than 50mm.
(4) The end of the composite deck should be fixed with bolts and anchors. The studs shall be set in the concave ribs of the corrugated plate, penetrate the steel plate, and then be firmly welded to the steel beam.
(5) The supporting length of the corrugated metal plate on the beam should not be less than 50mm, and on the masonry, it should not be less than 75mm.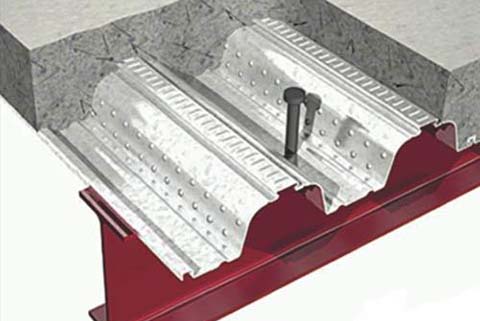 steel plate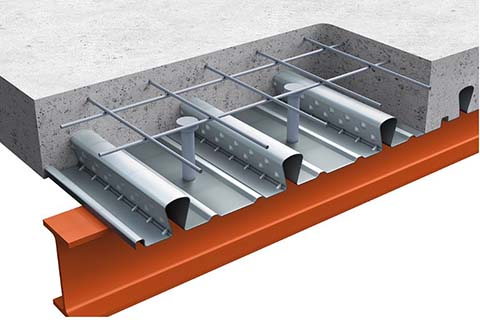 composite deck
Tips for choosing galvanized decorative panels
1. Understand the types and models of galvanized decks. Roof decks and floor decks are available in different sizes, spans, rib heights, thicknesses and designs.
2. Select the appropriate type according to your project and the characteristics of each platform.
3. Choose the right model, including rib height, span, design, etc. In fact, the rib height and rib spacing are related to the moment of inertia and support span. Generally speaking, the higher the rib height of the floor deck, the stronger the bearing capacity. And the smaller the rib spacing, the greater the load-carrying capacity. However, rib height is neither lower nor higher. For example, high-rib decks take up more space when used as building partitions. So choosing the right type and model is very important.
4. Pay attention to the thickness of the corrugated steel plate and the spacing of the secondary beams. The most commonly used corrugated metal sheet thicknesses are 0.75mm, 0.8mm, 1.0mm, 1.2mm. For floors with heavy loads, we will advise customers to use thicker floors.
5. Take yield strength , bearing capacity, and zinc layer thickness into consideration.
6. Buy from a reliable galvanized metal deck manufacturer.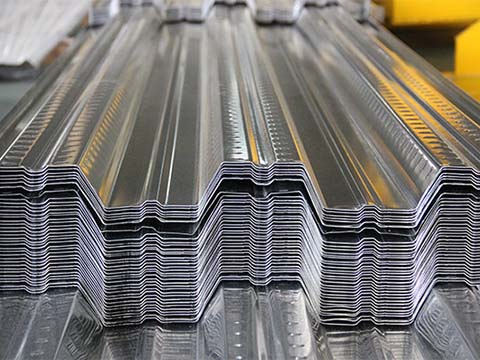 corrugated steel plate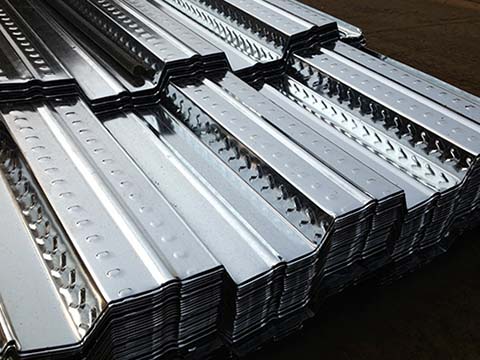 Galvanized floor
Corrugated Steel Flooring Prices
There are many factors that affect the price of galvanized steel sheets. It includes material (steel strength, plate thickness, zinc layer thickness), design or type etc. When purchasing, you need to identify the quality of the steel deck. Here's what you need to be aware of:
1. Thickness. If the steel plate is thicker, it means that more raw materials are needed and the price will be higher. So some suppliers will pretend to be 1.0mm thick deck with 0.8mm steel deck. In this case, you can check with calipers or weights.
2. Thickness of zinc layer. The zinc layer mainly plays an anti-corrosion role. Generally speaking, the thicker the galvanized layer, the higher the price. Some suppliers will use 60g/m2 galvanized deck plate instead of 180g/m2 plate. The most commonly used galvanized steel sheets for construction are Z275 and Z450 steel sheets. We recommend purchasing galvanized decks from a reliable manufacturer.
3. Steel strength. For example, you need a steel plate with a strength of 410Mpa, and the strength plate you buy may be 345Mpa or 235Mpa. Wangang promises to use high-zinc hot-dip galvanized sheet as material. Third party testing is acceptable.
Galvanized Deck Specifications
| | |
| --- | --- |
| thing | Corrugated metal decorative panels |
| Material | Galvanized steel |
| thickness | 0.7mm – 1.2mm (Gauge 22-18) |
| Galvanized layer thickness | 60 g/ m2 – 275 g/ m2 |
| overall width | 1,000 mm – 1,250 mm |
| effective width | 600 mm – 1,025 mm |
| Yield Strength | 250 MPa – 550 MPa |
| common type | A deck, B deck, F deck, N deck |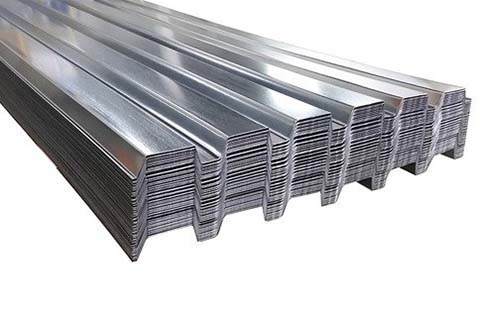 metal decking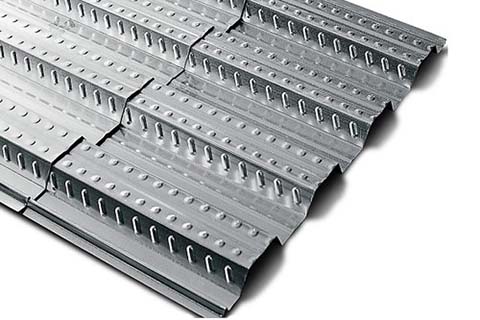 Floor Deck
Features and uses of galvanized steel sheets
1. High strength to weight ratio;
2. Beautiful appearance;
3. Excellent corrosion resistance, fire resistance and weather resistance;
4. Concealed fasteners;
5. Light weight, easy and fast installation;
6. Less concrete consumption and high efficiency.
Due to these great features, galvanized metal decks are widely used in many construction projects such as,
1. High-rise buildings, such as commercial centers, hotels, bank buildings, shopping centers, etc.
2. Multi-storey buildings, such as large supermarkets, schools, villas, automobile 4S shops, etc.
3. Public buildings, such as stadiums, theaters, libraries, passenger stations, exhibition halls, airport terminals, concert halls, etc.
4. Industrial buildings, such as warehouses, logistics centers, power plants, nuclear power plants, steel structure workshops, etc.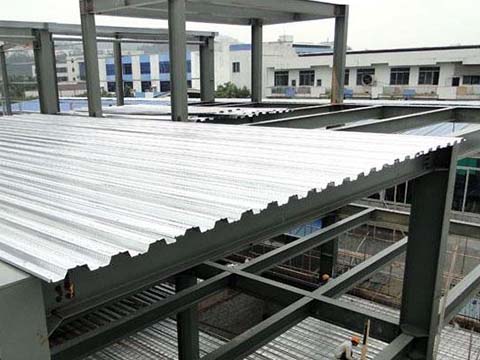 Galvanized Roof Sheets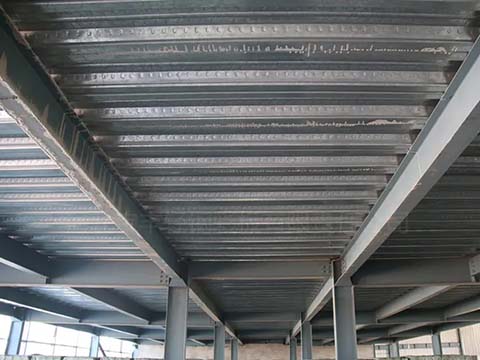 metal deck roofing