What are GI Roofing Panels?
GI roofing sheet is short for galvanized iron roofing sheet. It is made of galvanized steel sheet for roofing and coated with zinc. The zinc coating provides moisture and oxygen protection to the base steel. According to the galvanizing process, it can be divided into hot-dip galvanized steel sheet and electro-galvanized steel sheet.
The corrugated design will increase its strength, allowing it to withstand harsh weather conditions. Common designs include wavy, trapezoidal designs, ribbed galvanized roof panels, and more. It can be used as a single-ply panel, clad over an existing roof, or as a steel sandwich panel.
How long will a galvanized steel roof last?
Generally, the galvanized steel roof can be used for more than 30 years. Under ideal conditions, it can live up to 60 years. However, if you are near or on the beach, or in an industrial area, your roof may only last 10 years, depending on weathering conditions and corrosive environments. In fact, the service life of galvanized steel roof panels mainly depends on the thickness of the galvanized layer and the use environment. To prolong its life, you can periodically wash your roof to remove any salt or acid from the surface. Also, you need to choose the right corrugated roofing sheets for your roof.
Will Galvanized Steel Roof Sheets Rust?
The answer is yes, especially when exposed to weather conditions for an extended period of time. But it's very slow. Galvanized steel roofing panels are simply covered with a layer of zinc to prevent oxidation and rust. However, when the galvanized layer is cracked, the base material will rust.
1. Choose the appropriate thickness of the galvanized layer
Generally speaking, the thicker the galvanized layer, the longer the service life. Our GI roofs are mainly made of hot-dip galvanized steel sheets with a galvanizing weight of 40 g/m 2 to 275 g/m 2 . If your shingles are used in corrosive environments, such as marine or chemical industrial areas, you can choose a thicker zinc-coated roof.

2. Paint with colored paints

To prolong the life of your roof, you can also paint your shingles to prevent rust and keep them looking good.

3. Regular maintenance

Galvanized steel roof panels require almost no maintenance. However, regular maintenance, such as washing with water, can remove corrosion factors and prolong the service life.
Galvanized Steel Roofing Sheet for Sale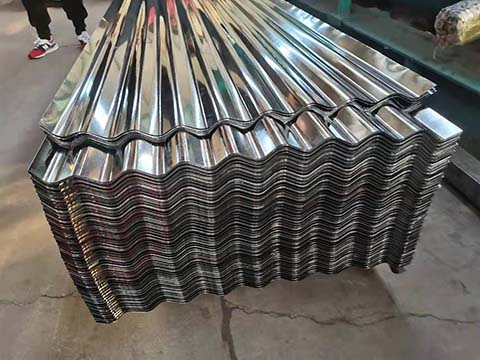 Wavy GI Roofing Sheet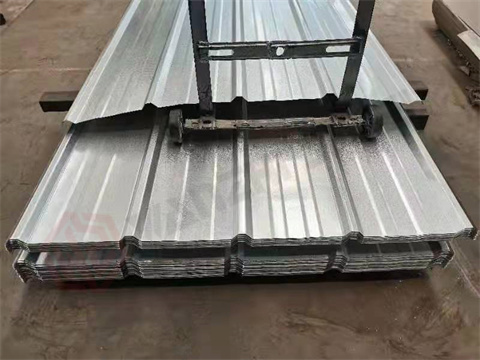 Trapezoidal Roofing Sheet
| | |
| --- | --- |
| Item | GI Roofing Sheet |
| Zinc Coating Thickness | 40 g/m 2 -275 g/m 2 |
| Thickness | 0.15 mm-0.8 mm |
| Overall Width | 750 mm-1,250 mm |
| Effective Width | 600 mm-1,050 mm |
| Length | As per your requirements |
| Spangles | Big spangles, regular spangles, small spangles, zero spangles |
| MOQ | 25 tons |
| Packaging | Standard export packaging |
About Package
Generally, the galvanized coils and sheets are packaged with iron sheets outside and moisture-proof paper or plastic film inside. Besides, it is often fixed with iron straps to avoid friction between sheets during transportation. If you have special requirements, please let us know.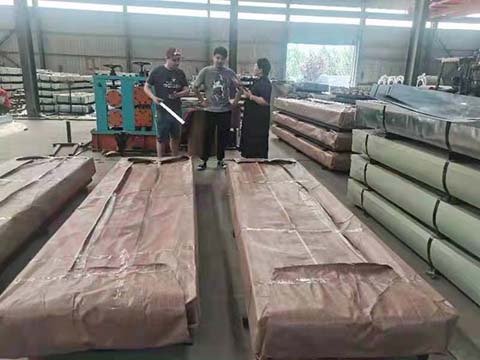 Inner Package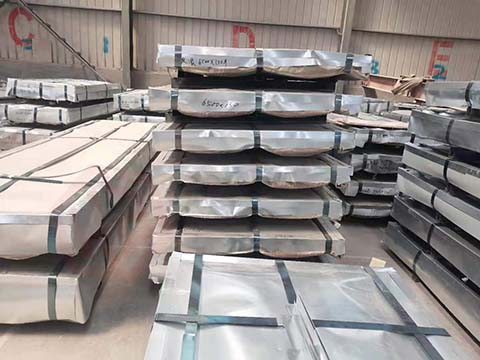 Package of GI Roofing Panels
How to Choose Galvanized Roofing Sheet Sizes?
During purchase, you may wonder which is better, 10 ft, 12 ft, 16 ft galvanized metal roofing sheet? And what thickness is perfect for your projects? How to decide the width? And which design is better for you? Here are some tips.
The standard size of GI roofing sheet is 0.35mm to 0.75 mm in thickness, and the effective width is 600 to 1,050 mm. We can also customize orders according to special requirements.
As for length, the standard size of galvanized roof sheets includes 2.44 m (8 ft) and 3.0 m (10 ft). Of course, the length can be cut as you desire. You can find 10ft (3.048 m), 12ft (3.658 m), 16 ft (4.877 m) galvanized steel roof panels, and also other sizes. But considering shipping issues and loading capacity, it should be within 20 ft.
The popular thickness of the GI sheet for roofing includes 0.4mm to 0.55 mm (gauge 30 to gauge 26). You need to determine according to the use purpose, use environment, budget, etc. For example, the GI sheet for roofing or floor decking will be thicker than 0.7 mm.
As a wholesale supplier of galvanized iron roofing sheet, we are glad to offer a competitive price. But considering the shipping costs, the MOQ (minimum order quantity) is 25 tons. Welcome to contact us for more details!
Uses of Galvanized Roofing Steel Sheet
GI roofing panel offers great corrosion resistance and a long lifespan. So it is widely used for industrial, commercial, residential, and agricultural purposes. Its wide applications include makeshift houses, garages, greenhouses, warehouses, barns, stables, sheds, factory plants, commercial buildings, etc.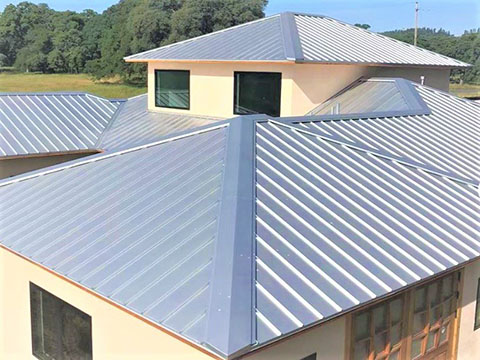 Residential Use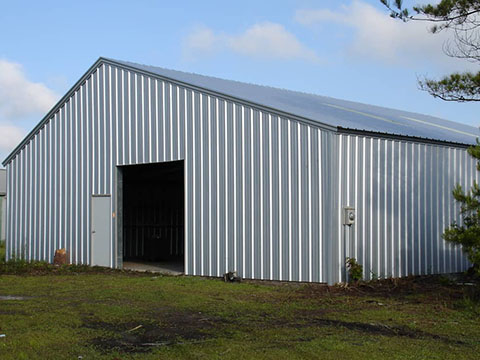 Warehouse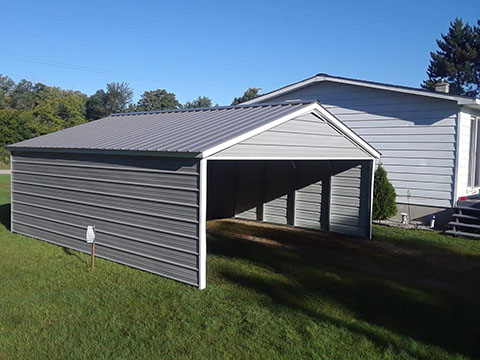 Garage
Advantages of Galvanized Roofing Sheets
1. Sturdy and Durable
Galvanized steel roof panels are made of quality hot-dipped galvanized sheets. They combine the steel strength and protective zinc coating. This makes it long-lasting and can withstand extreme weather conditions. The long service life and great strength are the primary reasons why they are popular among homeowners and investors.
2. Affordable Cost
GI sheet itself is more cost-effective than traditional roofing materials. Besides, it is lightweight, which makes it easy and quick to install. Also, it is durable and recyclable and requires less maintenance. All these factors make GI roofing sheets an economical option.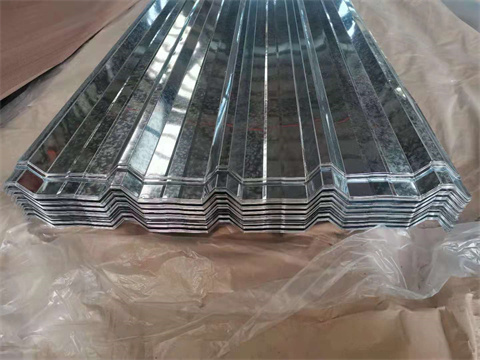 GI Roof Panels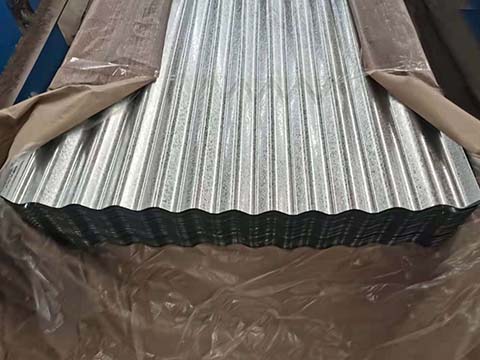 Galvanized Roofing Sheets for Sale
3. Aesthetic Appearance
Galvanized steel roofing sheet has a shiny and smooth surface. The corrugated design also looks brilliant from the outside. Besides, it has good adhesion so you paint it in different colors. Having a galvanized steel roof can easily serve an aesthetic purpose.
4. Fire-resistant Feature
Steel is a non-combustible and fire-resistant material. In addition, it is light in weight. Its lighter weight also makes it safe when there is a fire.